Happy Friday!
Friends, Romans, countrymen, lend us your eyeballs. It's Friday recap time!
This has been a wild week for the Carnage.
On Monday, we had a deliverability issue and Mailchimp delayed us by hours.
Then, IMPACT Elite invited us to chat with them on a Facebook Live (huge thanks to Carnage subscriber, Stephanie Baiocchi, for that!).
Finally, we learned in Wednesday's email that Carnage writer, Gloria, looks like a giraffe on roller skates when she tries to ice skate (hey, she wrote it, not me).
Anyway, let's get on with recapping the best content from the past week. Here's your list of the top 5 most clicked articles in our emails this week…
The Best Of
Top 5 Posts of the Week
The 5 most clicked links in this week's emails:
5) Everything You Need to Know About LinkedIn Video in 2019 (from Hootsuite)
4) Learn How These Ladies are Killing It in the Marketing Industry (from yours truly…Carney)
3) 12 Expert Ideas to Improve Your Content Marketing for Better Leads (from Content Marketing Institute)
2) A Simple (But Effective) 31‐Point SEO Checklist for 2018 (from Ahrefs)
1) 3 Data-Backed Instagram Trends for Your 2019 Strategy [New Research] (from IMPACT)
Groupies
Facebook Friday
What happening in our Facebook group this week?
We had a bunch of people post jobs they're hiring for!
Nicole Smestad asks, "Favorite content curation tools/methods?"
Mikaela Rae Sullivan wants to know about your do's and dont's of boosting Facebook posts.
There were a ton of discussions in the group this week. Dive in for everything…
Let's Drink
Five O'Clock Somewhere
It's Friday…let's kick off the weekend early. Here's what we'll be drinking tonight:
Last week we went with a fall-focused cocktail. This week? It's all about the holidays. When was the last time you had a perfect booze-y eggnog?
This Peppermint Bark Eggnog from PUNCH is just what you need to celebrate your way through the holidays (and maybe make those awkward convos with your Uncle Denny a little less awkward).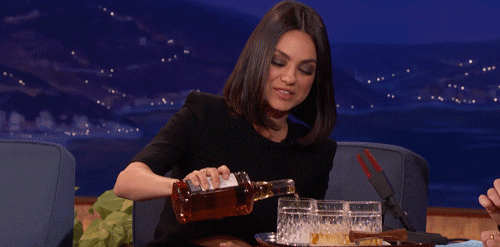 Quote of the Day
"Creative without strategy is called 'art.' Creative with strategy is called 'advertising.'"
Jef I. Richards
Ads from the Past
Ads from the Past
Check out the detail in these stylish shoes from Hush Puppies. This ad came into the world in 1971.